Last weekend was wind, water and waves with lots of snow in the mix. This weekend? Readers and writers and bluegrass musicians in two highly anticipated events.
First up is the North Shore Readers & Writers Festival sponsored by the Grand Marais Art Colony.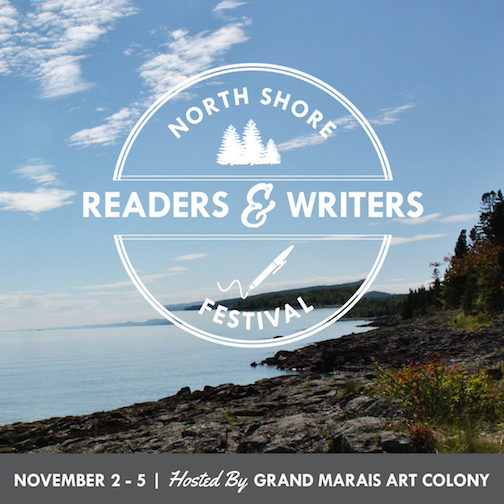 This four-day festival in Grand Marais highlights the power of the written word, featuring more than 20 authors and book professionals leading and participating in craft seminars, author talks, presentations, panel discussions, radio interviews and more Nov. 2 through Nov. 5.
Festival authors and book professionals include Erik Anderson, Mary Casanova, Sharon Chmielarz, Tim Cochrane, Lily Coyle, Staci Drouillard, Katie Dublinski, Chris Fischbach, Peter Geye, Diane Glancy, William Green, Emily Hamilton, Patricia Hampl, Erin Hart, William Kent Krueger, Julie Landsman, Lise Lunge-Larsen, Shoshanna Matney, Ann Regan, Kathryn Savage, Sun Yung Shin, Nina Simonowicz, Moheb Soliman, Faith Sullivan, Bart Sutter, Kari Vick, and Kao Kalia Yang.
And the Founders Hall at the Art Colony will be transformed into an exhibit hall and meeting place with book professionals, presses and booths including Beaver's Pond Press, Coffee House Press, Drury Lane Bookstore, Grand Marais Public Library, Graywolf Press, Hamline University's Creative Writing Programs, Lake Superior Writers, Minnesota Historical Society Press, Red Bird Chapbooks, University of Minnesota Press, and Water~Stone Review.
This really is an extraordinary event, and classes and workshops will be held in meeting rooms all over town.
WTIP Radio is part of the "show," too, when Jay Andersen leads a live panel discussion of  "Writing About Charged Topics" with authors Julie Landsman, William Green and Kao Kalia Yang at the Grand Marais Public Library. The discussion will be aired live on WTIP from 7-8:30 p.m. on Thursday.
And Voyageur Brewing Co. hosts Books-N-Brew at 9 p.m. on Saturday night with poet and installation artist Moheb Soliman.
These are just a few of the events scheduled for the weekend.  Rush tickets are available at the door for some of the events. To find out more about the festival, click here.
On Friday, the North Shore Music Association will present the 27th annual Bluegrass Masters Weekend at Lutsen Resort.
The music festival is three days of jamming, a full day of instrumental workshops, and an evening concert on Saturday night. All are welcome.
This year's featured instrument is banjo, and otheur featured performer and instructor is Kristin Scott Benson of The Grascals. One of the top banjo players on the bluegrass scene today, Benson is also a gifted and generous teacher with a rare interest in the banjo as a lyrical instrument.
She will lead banjo workshops on Saturday, which are open to the public. Topics include "Basic Right and Left-Hand Techniques," "The Chord Scale, Improvising and Composing," "Emphasizing Vocal Melody in Solos," and "Backup." The workshops are open to beginners through advanced levels—all welcome! They will be held from 9 a.m. to 5 p.m. on Saturday. Registration is at Lutsen Resort.
The Saturday evening concert will feature the Kristin Scott Benson Trio with Kristin on banjo, Danny Roberts on mandolin, and Chris Jones on guitar and lead vocals. Tickets are available at the door only.
Also this week, North House Folk School will host a workshop, "Weaving with Birch Bark" from 7-9 p.m. on Thursday, Nov. 2. No registration required. Cost is $5. Everyone invited.
On Saturday, the Finland community will hold the Finland Community Bazaar from 10 a.m. to 3 p.m. at the Clair Nelson Finland Community Center, 6866 Cramer Rd. in Finland. The bazaar will feature Zuppa Toscana Soup, and Chili, Music By: Casey Aro , vendors, crafters , home-made wreaths and more. All invited.
In Thunder Bay, the Baggage Building Arts Centre at Prince Arthur Park will hold the Waterfront Art Sale from 10 a.m. to 4 p.m. featuring works by local artists and artisans.
And then, next Wednesday, Nov., 8,  Amy Demmer, executive director of the Grand Marais Art Colony, will present a workshop on writing grants for the Arrowhead Regional Arts Council. There is a wealth of grant support available to artists for funding anything from equipment needs to career development opportunities or artist projects. Demmer will give an overview of the grant-writing process and standards and participants will define their needs and goals and work independently or in pairs to ready their grant for submission, checking in at key points in the process. There are three sessions: Nov. 8, Dec.6, and Jan.10,  from noon to 1:30 pm.
 Exhibits:
 The Tweed Museum of Art has just opened a new collection-based exhibition, with select works on loan from the Weisman Art Museum, entitled "Modern(ism). The exhibition features artwork from world-renowned modern artists of the 20th century, such as Pablo Picasso, Marc Chagall, Käthe Kollwitz, Henri Matisse, Oskar Kokoschka, Max Weber, Salvador Dali, and Otto Dix.
This exhibition is an attempt to explore the range of "-ism" in art movements that spanned the 20th century.
The exhibit Plein Air: America's Industrial Landscape, works of world-class plein air painters, will continue at the Tweed through Nov. 12.
Also, the extraordinary exhibit Kathy McTavish: Chance, a multi-layered exhibit featuring projections on painted walls, music and digital images continues at the Tweed.
Also in Duluth, the Duluth Art Institute will hold the opening reception for "The Art of Grief" on Saturday, Nov. 4 from 4-6 p.m.
In Thunder Bay, the Definitely Superior Art Gallery is featuring exhibits by Christian Chapman and Sam Shahsahabi through Nov. 11.
 Upcoming:
 Author Lorna Landvik ("Patty Jane's House of Curl,") will give a presentation at the Grand Marais Public Library at 6 p.m. Friday, Nov. 10. Free.All invited.
On Nov. 10, the Cedar Coffee Company in Two Harbors will hold an opening reception for a new art show featuring work by Betsy Bowen.
The reception is from 6:30-8:30 p.m. The Cedar Coffee Company is located at 1130 11th St.
North House Folk School will showcase the work of more than 30 of its instructors and present a visual story of the folk achool at the Johnson Heritage Post.
The exhibit "Begin, Continue" will open with a reception from 4-6 p.m. Nov. 17.  That is also the weekend for Winterer's Gathering and the Arctic Film Festival at North House. For more info, click here.
The Grand Marais Art Colony will hold a series of artist services workshops by Lynn Speaker. Workshops include "Goal Setting," "Writing an Artist Statement," (Nov. 27 & Dec. 3) and "Critical Response." (Nov. 30). For more information, click here.
Lutsen Resort will host the Fireman's Ball with music by Big Wave Dave and the Ripples Dec. 2.
The Svea Holiday Concert will be held at the Grand Marais Art Colony on Thursday, Dec. 7 at 7 p.m. The program includes a cappela music for the holiday season and tasty treats. Stay tuned for details.
Artist News:
Alison Aune-Hinkel, Kirsten Aune and Lisa Fitzpatrick celebrated the 100th anniversary of Finnish independence with an exhibit of Finnish-inspired wall hangings, mixed media paintings andn images of embroderies by Helsinki school children at the Nordic Center in Duluth recently.
Window Shopping:
Here's the music for the week:
Thursday, Nov. 2:
Chris Gillis and Thomas Stamps, Date Night, North Shore Winery,  6-8 p.m.
Friday, Nov. 3;
Briand Morrison, Voyageur Brewing co., 4 p.m.
Plucked Up String Band, Grandma Ray's, 8 p.m.
Brothers in Arms, Wunderbar (the former Harbor Light,) 8-11 p.m.
Saturday, Nov. 4:
Jim & Michele Miller, Voyageur Brewing Co., 4 p.m.
Bluegrass Masters Weekend, Kristen Scott Benson Trio, Lutsen Resort, 7 p.m.
Chris Gillis and Thomas Stamps, Wunderbar, 7:30 p.m.
SplinterTones, Grandma Ray's, 8 p.m.
We found lots of photos of the storm, the snow, and wildlife this week.
Let's start with the the storm.
We had a pond in front to the Co-op, too. This bicyclist didn't quite make it without getting wet. The bike tipped and the rider got a little wet.
There were many moods in this storm.
It was surfer's heaven for awhile.
Meanwhile, in the interior… peace and snow.
It rained a lot on the shore.
Peace, after the storm.
And the deer kept finding the apples…
Have a great weekend, everyone!