Solstice!
The longest night of the year is always a fun time in Grand Marais, because the Good Harbor Hill Players put on the Winter Solstice Shadow Puppet Show at North House Folk School with live music, a great storyline and fantastical shadow puppets. There's always lots of laughter, and (muted) mitten clapping. This year, the title is "Twinkle Twinkle: Tuning In To the Universe." (We'll find out what that means on Thursday night, Dec. 21, at 6 p.m.)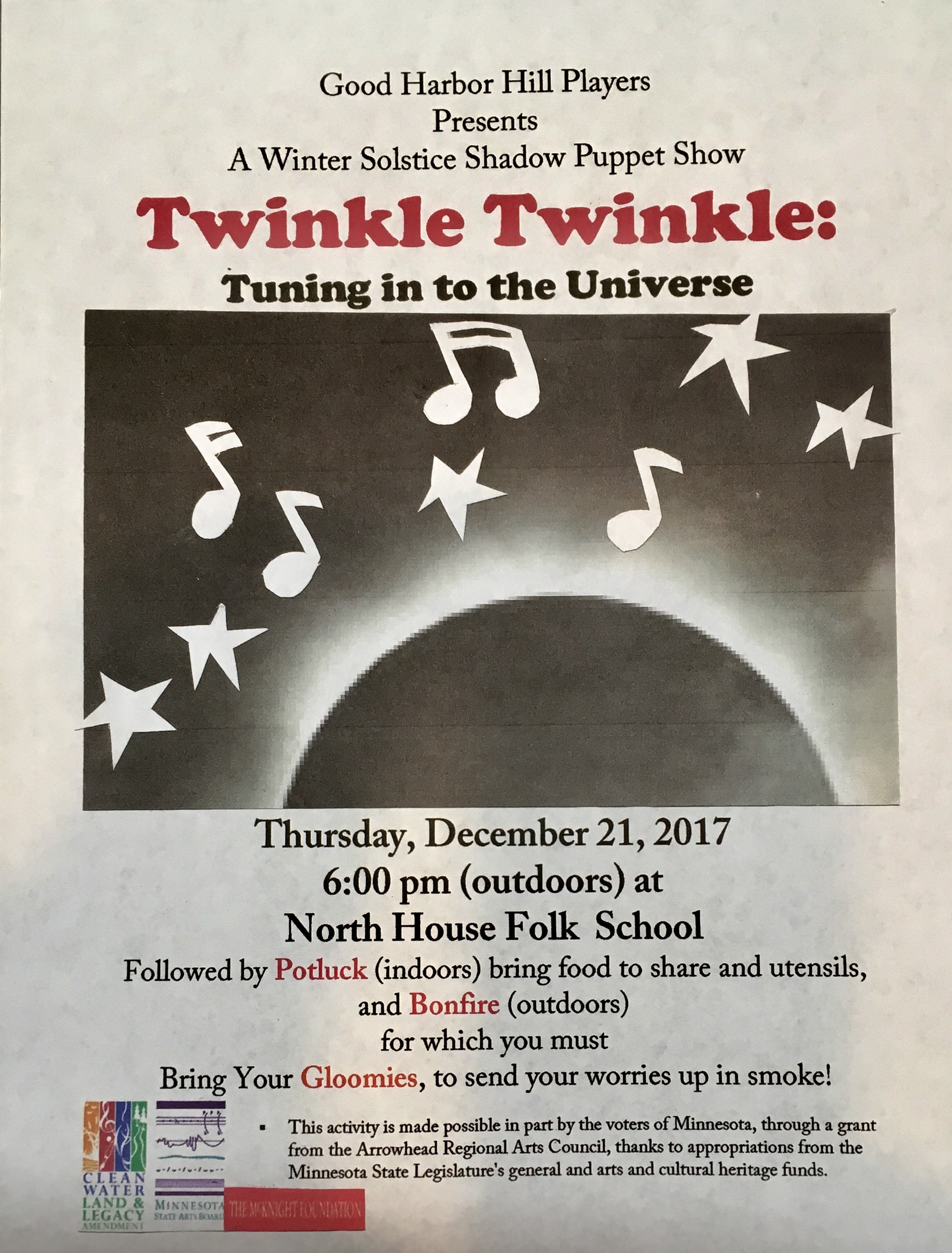 The pageant is always so quirky and funny. At the end, the scary Krampus' appear, beating drums and lurching under bearskins and heavy horns. Then the bonfire is lit, and everyone crowds around, throwing in their handwritten "gloomies" to send their worries up in smoke.  The pageant is followed by a potluck in the Blue Building at North House. Everyone is invited. Children, especially, have a great time at this event.
Gunflint Lodge is also holding a Winter Solstice Event, featuring dinner and Celtic music. For more info, click here.
Also on Thursday night, A Hovland Family Christmas will be held at the Hovland Town Hall at 7-8 p.m. featuring number of lots of live music and fun with friends. Bring a Christmas treat to share!
Featured musicians include Andy & Amy & Sparrow Schmidt, Jack & Hannah Nickolay, Jim McGowan, Pat Flack, Jim & Michele Miller & Luke & James, Brenda Benson, Justin & Kelli Hedrick and more. All invited.
This week, fiber artists have gathered at the Johnson Heritage Post to hold the Mostly Fiber Festival & Open House from 10 a.m. to 4 p.m. daily.
This Friday and Saturday are special days for the festival, with non-fiber artists also invited to exhibit. Participants in the festival include Linda Bauer, Marcie McIntire, Jeff Morgan, Mary MacDonald, Julie Arthur, Pat Zankman, Vicki Biggs-Anderson and Patty Meyer, to name a few.
Also, the Holiday Art Underground Show continues at Betsy Bowen Studios and Gallery, featuring a wide selection of art from a variety of different media. More than 40 local and regional artists are participating in this event.

The gallery is open daily from 11 a.m. to 5 p.m. through Dec. 23, and then re-opens Thursday, Dec. 28 through Dec. 30. Note: The gallery will be open this winter, Thursday through Saturday.
In other exhibits, plein air painter Greg Lecker continues his exhibit at Tettegouche State Park through the end of the month.
In Duluth, both the Tweed Museum of Art and the Duluth Art Institute are closing over both holiday weekends.
Here's what you can see at the Tweed through Friday of this week and then for a few days next week, and then regular hours after the Jan. 1.. This painting is part of the "Picks out of Context: Tweed Museum Staff Favorites" exhibit.
In Thunder Bay, the Thunder Bay Art Gallery will be open this weekend. One of the featured exhibits includes Denise Smith's exhibition, "On the Trail."
Other exhibits at the Thunder Bay Art Gallery include: "Wood Quill Stone: Works from the Permanent Collection," "Converging Lines: Recent Art From the Northwest" and "Connecting Layers: Layers – The Big Art Adventure."
Also in Thunder Bay, "Manifestation: 29th annual Regional Juried Exhibition" continues at the Definitely Superior Art Gallery in Thunder Bay.
The gallery is closed for winter break, but will reopen Jan. 9.
Upcoming
 The Plucked Up String Band will play at the Skyport Lodge  at 7 p.m. Friday, Dec. 29.
A Head's-Up for New Year's Parties, Dec. 31
Michael Monroe Log Cabin Concert, 7 p.m., call 612-789-2255 for reservations.
New Year's Eve Masquerade Wunder-Bash with music by Cold City Heat, Wunderbar, 6 p.m.
4-Shore plays at Grandma Ray's on New Year's, 8 p.m.
The Federales play the Gunflint Tavern, 8:30 p.m
Big Wave Dave & the Ripples plays at Papa Charlie's, 9:30 p.m.
Other upcoming events include:
The Gunflint Mail Run Sled Dog Race is Jan. 6, hosted by Trail Center.
The Grand Marais Ole Opry is at the Arrowhead Center for the Arts at 7 p.m. Jan. 13.
Window Shopping
Here's the music for the week:
Thursday, Dec. 21:
Joe Paulik, Moguls Grille, 4 p.m.
John Silliman, Gunflint Lodge, 5:30 p.m.
Joshua Schmidt, Poplar River Pub, 6 p.m.
Briand Morrison, North Shore Winery, 6 p.m.
Hovland Family Christmas, live music, Hovland Town Hall, 7 p.m.
Gordon Thorne & Mike Roth, Gun Flint Tavern, 7 p.m.
Friday, Dec. 22:
Jim Lundorff, Voyageur Brewing Co., 4 p.m.
JohnRuss, Mogul's Grille, 4 p.m.
Portage, Grandma Ray's, 6 p.m.
Briand Morrison, Bluefin Grille, 8 p.m.
Mysterious Ways, Wunderbar, 8 p.m.
Space Monster, Gun Flint Tavern, 8:30 p.m.
Big Dope, Grandma Ray's, 8:30 p.m.
Saturday, Dec. 23:
Marc Gartman, Voyageur Brewing Co., 4 p.m.
Eric Frost, Lutsen Resort, 7 p.m.
Plucked Up String Band, Wunderbar, 8 p.m.
Space Monster, Gun Flint Tavern, 8:30 p.m.
Bug Dope, Grandma Ray's, 8:30 p.m.
Sunday, Dec. 24
Briand Morrison, Moguls Grille, 10 a.m. to noon
Monday, Dec. 25:
Tuesday, Dec. 26:
Pushing Chain, Lutsen Resort, 7 p.m.
Wednesday, Dec. 27:
Joe Paulik, Lutsen Resort, 7 p.m.
We found some great photos this week, especially bird photos. Here's a selection:
And then, there's the beaver.
We found some beautiful 'scapes, too.
Merry Christmas, everyone!