We will remember New Year's 2018 for sure — it's coming in like a bear all over Minnesota and points East with really cold temps and high windchills. Here on the North Shore, we're cold, yes, but we're used to it, and celebrate our photographers who make a point of getting out there and photographing the chill. (Check out the photographs at the end of this post to really get a taste of the Northwoods at -24F.)
Meanwhile, there's lots to do indoors, too, especially live music. Check out the music schedule below. There is a lot to choose from, with live music at Lutsen Resort, Papa Charlie's, the North Shore Winery, The Wunderbar, the Gun Flint Tavern and Grandma Ray's.
And, Jim McGowan will be the guest on WTIP's The Roadhouse on Friday night. He will talk about his music and play a few songs. The Roadhouse airs from 5-7 p.m. on Friday.
There are New Year's parties at most of the venues this year, too.
Big Dave Wave Dave & the Ripples play at Papa Charlie's starting at 9:30 p.m. on Dec. 31. $12 in advance, $16 at the door.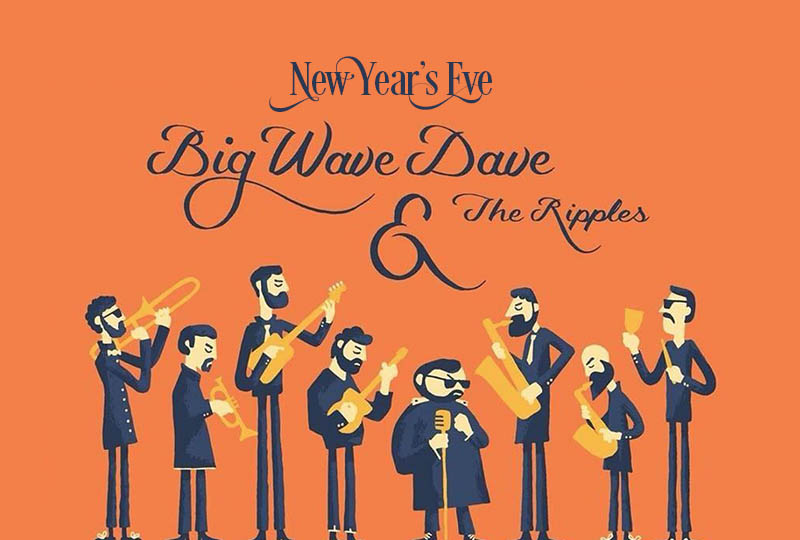 The Duluth-based band funk/soul/blues/rock play music to get people movin'.
The band 4-Shore plays a New Year's Eve Party at Grandma Ray's. The music starts at 8 p.m.
The Federales, an all-acoustic band, plays Old Time and Americana at the Gun Flint Tavern starting at 8:30 p.m.
The Wunderbar will hold its 1st annual New Years Eve Masquerade Wunder-Bash with Cold Heat from 6-1 p.m. The Twin Cities band plays swinging gypsy jazz and will perform on Saturday and Sunday nights.
And Michael Monroe is holding two Log Cabin Concerts this weekend: Dec. 30 and Dec. 31 at 7 p.m.
Monroe holds the concerts in his cabin in rural Grand Marais, offering an intimate setting for his music. The concert is preceded by a reception. For more info and tickets, call 612-789-2255 or visit michaelmonroemusic.com.
The Cove, a new lobby bar and fireside Great Room at Best Western  Superior Inn, will host Chris Gillis and Thomas Stamps for pre-New Year's music starting at 6 p.m. Dec. 31.
And finally, Cascade Lodge will host guitarist Jim McGowan from 5-7 p.m. New Year's Eve, followed by Brothers in Arms, who will play from 7-9 p.m.
There's an opportunity to learn about music on the North Shore, too, when Boyd Blomberg and Adam Moe give a presentation at the Grand Marais Public Library on Wednesday, Jan. 3 from 6-7 p.m.
Entitled "The Roots of Pushing Chain," the musicians will talk about the music that got them started and how it has influenced their musical career. They'll play, too. All invited. Free.
 Exhibits
The Mostly Fiber Festival and Open House continues at the Johnson Heritage Post this week through Saturday.
The festival features weaving, felting, beading, knitting and more from local fiber artists. There are also on-going spinning and weaving demonstrations. All invited. Free.
The Holiday Art Underground show at Betsy Bowen's Galleries and Studio continues this week as well. Betsy is also working in her studio. The gallery will be open on Thursday through Saturday from 11 a.m. to 5 p.m.
The Holiday Art Underground features work from more than 30 local and regional artists in a variety of media. The gallery will be open this winter, too. Stay tuned for times.
In other cities, The Tweed Museum of Art in Duluth is open this Thursday, Dec. 28,  and then closes until Jan. 2, when it re-opens for the winter. There's lots to see. Here are a few examples from the exhibits there:
The exhibit, "Laurentian: Paul LaJeunesse & Lake Superior Wood Carvers" continues at the Duluth Art Institute through Jan. 1.
In Thunder Bay, the Thunder Bay Art Gallery is featuring "Wind Quill Stone," selections from its Permanent Collection.
The Definitely Superior Art Gallery in Thunder Bay is closed until Jan. 6.
Upcoming
The North Shore Music Association will present the 5th annual Grand Marais Ole Opry Jan. 13 at the Arrowhead Center for the Arts. a classic country, old-time, honkytonk, and bluegrass music showcase of local and regional musicians performing favorite classics and lesser-known gems.
Emceed by WTIP's "Classic Country" host Carl Solander, this year's lineup features a bang-up group of Twin Cities talents called The Midwesternaires, GM Ole Opry Hall of Famer Gary Croft, and a gifted gaggle of Grand Marais musicians known as The Grievance Committee. The concert starts at 7 p.m. Tickets available at the door.
Grant Opportunities
This is the time of the year to start thinking about new projects and grant opportunities. Here are a few of them:
The Arrowhead Regional Arts Council offers a wide variety of grant opportunities to residents of the seven counties in the Arrowhead Region. Three grants have deadlines Jan. 26:
Technology/Equipment

(for Individuals): awards grant funding up to $2,000 to purchase technology, equipment, or pay for training and services that will help you support and sustain your work as an artist.
Community Arts Learning(for 

Individuals

 and 

Organizations

): awards grant funding of up to $5,000 to support high quality arts learning activities in any arts discipline.

Art Project

(for Organizations): awards grant funding of up to $5,000 to support activities directly involved in the creation, performance, exhibition or publication of artistic works; or to present arts events by contracting for the services of other organizations or individuals This is not an Arts Learning Grant program.
The deadline for submitting grant applications to these programs is Friday, Jan. 26. For info about the grants, see aracouncil.org  ARAC offers many other grant opportunities. See these on the site also.
The Northern Clay Center in Minneapolis has a wide variety of grants available for artists. The organization is looking for applications from all walks of ceramic art, and it will help artists prepare the best application they can, if they send their materials to Jill Foote-Hutton, Coordinator of Artist Services and Storytelling, at least two weeks before the deadline. She is also available to answer any questions they might have about eligibility or the process. Call her at 636.234.4900, or send her an email at jillfootehutton@northernclaycenter.org. This service is provided free of charge.
Hereis what the Northern Clay Center offers:
Jerome Ceramic Artist P

roject Grant: Three $6,000 awards for emerging ceramic artists. Application Deadline: Feb. 16, 5 p.m.
Warren Mackenzie Advancement Award: Up to three awards of up to $4,000 for currently enrolled students or apprentices, or those who have recently graduated or finished an apprenticeship. Application Deadline: April 13, 5 p.m.
Emerging Artist Residencies: Two residencies specific to those pursuing a career as a studio potter (Fogelberg) and two residencies for ceramic artists working in any direction (Anonymous Artist). The residency award comes with a studio as well as a material and firing stipend. Application Deadline: April 13, 5 p.m.

McKnight Fellowship: 

Two $25,000 awards for mid-career Minnesota ceramic artists. Not a project grant. Application Deadline: May 25, 5 p.m.
McKnight Residency: This one is for ceramic artists living outside of Minnesota. Feel free to share with your friends around the country. It's a 3-month funded residency with a $6,000 stipend. Application Deadline: May 25, 5 p.m.
There are sample applications on the site, as well as lots of other information. Check it out at northernclaycenter.org
FYI
ISD 166 school band seeking used instruments: The Cook County School band is looking to expand its program to include all 5th graders. Currently there are limited on instruments available for the students. Do you have a band instrument in working condition that you are willing to donate? Contact Mikkel Haas by email or phone at mhaas@isd166.org or 218-387-2271 Ext 301.
The Grand Marais Public Library will hold Friday Night Reels again this year, starting with "Havana Curveball," which will be screened at 6 p.m. Friday, Jan. 5. Everyone is invited to attend. Please note the films selected are intended for an adult audience, and may address situations or themes that could be challenging for younger members of the community. The full schedule and synopses of the films can be found at the library website: www.grandmaraislibrary.org.
Window Shopping:
Here is the music for this week:
Thursday, Dec. 28:
Gordon Thorne, Date Night, North Shore Winery, 6 p.m.
Eric Frost, Lutsen Resort, 7 p.m.
Pete K., Mogul's Grille, 7 p.m.
Joe Paulik, Gun Flint Tavern, 8:30 p.m.
Friday, Dec. 29:
Briand Morrison, Voyageur Brewing Co.,  4 p.m.
Eric Frost, Mogul's Grille, 6 p.m.
Common Ground, Lutsen Resort, 7 p.m.
The Federales, Gun Flihnt Tavern, 8:30 p.m.
Timmy Haus, Papa Charlie's, 9:30 p.m.
Saturday, Dec. 30:
Jim & Michele Miller, Voyageur Brewing Co., 4 p.m.
Michael Monroe's Log Cabin Concert, rural Grand Marais, 7 p.m.,  More info at michaelmonroemusic.com
Plucked Up String Band, Lutsen Resort, 7 p.m.
Cold City Heat, Wunderbar, 8 p.m.
SplinterTones, Grandma Ray's, 8 p.m.
The Spruce Roots, Gun Flint Tavern, 8:30 p.m.
DJ Beavstar, Papa Charlie's, 9:30 p.m.
Sunday, Dec. 31:
Briand Morrison, Mogul's Grille, 10 a.m.
Chris Gillis and Thomas Stamps, The Cove at Superior Inn, 6 p.m.
Michael Monroe Log Cabin Concert, rural Grand Marais, 7 p.m. For more info see michaelmonroemusic.com
4-Shore, Grandma Ray's, 8 p.m.
The Federales, Gun Flint Tavern, 8:30 p.m.
Big Wave Doe and the Ripples, Papa Charlie's, 9:30 p.m.
Cold City Heat, Wunderbar, 8 p.m.
p.m.
Tuesday, Jan. 2:
Eric Frost, Mogul's Grille, 6 p.m.
Pete Kavanaugh, Mogul's Grille, 4 p.m.
Jon Kallberg, Poplar River Pub, 6 p.m.
We found some great photos, too.
Let's start with winter wildlife:
And now, for some winter landscapes.
And here is someone that apparently likes the cold. Enjoy!
Have a great weekend and keep warm!