Good morning. Today is Thanksgiving and we lead with a "painting of thanks"  by David Gilsvik. Entitled "To a Glorious Autumn," the painting does homage to the wondrous fall we had this year on the North Shore. Thankful … for the fall and for the talent and dedication that made this image. Thank you, David, and to all the artists whose work resonates in our souls.
Thanksgiving is a harvest festival and restaurants throughout Cook County are offering special menus for this day. To see all the offerings, click here.
There are a number of  "feasts" in store for you this weekend, too.
First up is the Pop-up Art Sale featuring a wide variety of work by members of the North Shore Artists League that will be held in the Ballroom at the Waves of Superior Café from 10 a.m. to 6 p.m. on Friday, Nov. 26.
Look for pottery, glass, paintings, weaving, collage, sculpture and leatherworks by local artists. All invited.
The North Shore Winery will also host a Christmas Market on Friday from noon to 5 p.m. featuring work by local artists, as well as gifts, food and wines. Featured artists include Greg Mueller, Kari Vick, Nan Onkka, Julia Klatt Singer, Anna Hess, Dave Woerhide, and Jim Cordes. Two local shops, North Country and The Big Lake, will have items there as well.
The start of the holiday season wouldn't be complete without Grand Marais' iconic Christmas parade,"Oh Ole Night,"which is known for its cheer and lightheartedness, as it makes two loops around downtown instead of one.
The parade ends at Harbor Park where there will be a ceremonial tree lighting and then fireworks. Here is a video of what the fireworks looked like last year.
Papa Charlie's is hosting the New Standards Holiday Show again this year on Friday night, but it has sold out. Instead, check out WTIP Community Radio at 6 p.m. for a special Oh Ole Night Radio Special followed by Small Change at 7 p.m. featuring holiday fun.
The Holiday Art Underground exhibit at the Betsy Bowen Studio Gallery opens Nov. 26 and continues through Dec. 31 featuring a variety of work by local and regional artists.
This  Saturday, the Hovland Winter Art Show begins at 10 a.m. in the Hovland Town Hall. This one-day event features a wide variety of local arts and crafts and is a popular destination for holiday shopping.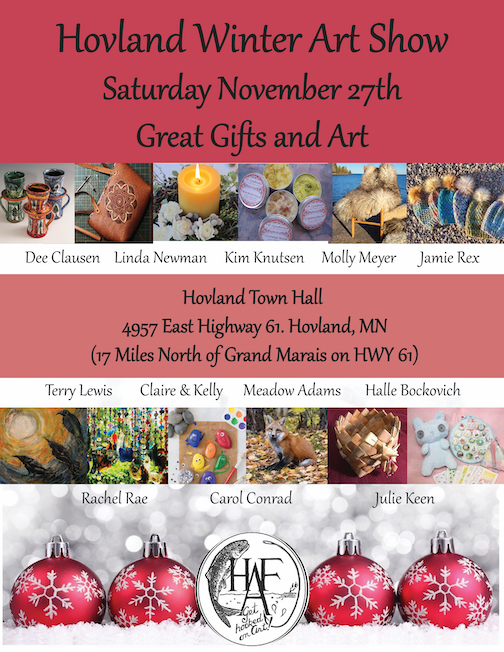 The art show features everything from pottery, glass, paintings and handcrafted ornaments to beeswax candles, birchbark art and more. The show runs from 10 a.m. to 4 p.m. All invited.
Exhibits:
The Far and Near, an exhibit of paintings by Karen Owsley Nease, continues at the Johnson Heritage Post Gallery.
The Cedar Coffee Company in Two Harbors has recently opened a new exhibit entitled "Three Moods for the Holidays," featuring works by Alison Aune-Hinkel, Kirsten Aune and Jon.
The exhibit continues through January.
The 63rd Arrowhead Regional Biennial continues at the Duluth Art Institute, featuring works by 27 regional artists, including artists from Canada. This year's exhibit focuses on works that examine community, the environment, heritage, and current events. Works from a large-scale sculptural installation to video, from oil paintings to collage are featured in the show. Jonathan Thunder was awarded first place with his painting, Modern Times.
 Upcoming:
Next weekend, the holiday sales continue.
The Northwoods Fiber Guild's Holiday Sale and Open House will be held  from 9 a.m. to 2 p.m. on Saturday, Dec. 4. in Studio 21. This popular event features knitting, weaving, felting, quilting, woodcarving, paper art, cards, beadwork, and felted sculptures as well as unique clothing, scarves, hats, mittens,  socks and more.
The sale will be held in a new location this year — Studio 21, the Grand Marais Art Colony's new building on Hwy. 21. Open to all.
Also on Dec. 4, the Art Colony potters will be presenting a variety of new work at the 1st annual Pots for Presents Holiday Sale in the Founders Hall at the Grand Marais Art Colony. Bowls, mugs, jars, ornaments, luminaries and more crafted from porcelain, stoneware and earthenware will be featured.
The potters who will be exhibiting at the sale include Adrea Beres, Kari Carter, Joan Farnam, Natalie Sobanja and Ann Ward.
The event will be from 11 a.m. to 5 p.m. Dec. 4 at the Art Colony. All invited.
And on Dec. 10, the Johnson Heritage Post will open a new exhibit featuring works by nine glass artists enbtitled The Glass Show.
Glass Show artists include Mary Bebie, Sharon Frykman, Melissa Grover, Jeri Person, Bob Pranis, Tony Rau, Lee Ross, Nancy Seaton and Veronica Weadock. Stay tuned for more on this spectacular event.
 Artists at Work:
Online Music
Live Music:
Friday, Nov, 26:
TBA, Gunflint Tavern, 7:30 p.m.
Saturday, Nov. 27:
Fred Anderson, Lutsen Resort, 6:30 p.m.
John Gruber, Gunflint Tavern, 7:30 p.m.
Photographs:
 Here is a selection of the photographs we found this week:
Wildlife:
Landscapes, Skyscapes, & Cloudscapes:
Happy Thanksgiving!
n