Greetings from Cook County where spring has officially landed on the shore. The river is flowing higher than ever this year.
Inland, not so much.
(BTW: There have been a few technical issues this week, so ArtScene will be a little shorter than normal. Thank you for your patience. ) 
Greetings from the North Shore, where spring fever is running high, as are the rivers. The garlic is up in gardens near the lake, but snow still covers some of the ground inland.
And it's still an open question as to how many lakes will be open for the fishing opener Saturday morning.  Fingers crossed.
Meanwhile, we're excited to see spring.
First up this week, printmaker Rina Yoon will be the Grand Marais Art Colony's Instagram Takeover Artist on Thursday.
She focuses on non-traditional printmaking methods including large-scale prints, paper installations, and multi-media work combining video and sculptural elements with printmaking.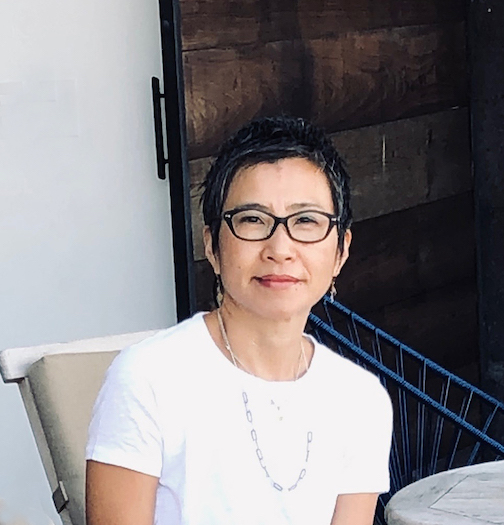 Rina will teach Exploring Collagraph: Non-traditional Intaglio at the Art Colony, August 1 – 5. Follow along on the Art Colony's Instagram: here. 
Exhibits: 
The Spirit of the Wilderness art exhibit at the Johnson Heritage Post, Moving Toward the Light features artists of every age showing works in a variety of media. Here are a few examples:
 Upcoming
It's not too late to join the production of "We Will Rock You" The Queen Rock Musical! Youth in grades 3 and up will build the set, run sound and lights, move scenery and sing and dance. The cast has been chosen but there is plenty of room for more chorus members. Songs like "We Are the Champions," "We Will Rock You" and many more! No experience necessary. Free.
Theater camp is June 13-24,  9-3 pm.  Performances are June 24 and 25.
To register, contact Sue@grandmaraisplayhouse.com
North Shore Music Association to present BB&J 
The North Shore Music Association welcomes Brittany Haas, Brittany Karlson, and Joe K. Walsh on Saturday, May 28 at 7 pm at the Arrowhead Center for the Arts. "A modern string band—from bluegrass to old-time, with many stops along the way," this group is guaranteed to lift your spirits.  Tickets are $20 adults, $10 youth 18 & under, available now at northshoremusicassociation.com and at the door.
NSMA will also host this group in a music education event, free and open to the public of all ages, at the Grand Marais Art Colony that day at 2 pm (120 W. 3rd Ave. – Founders Hall). The trio will cover topics such as string genres and techniques.
Artists at Work:
Staci Drouillard's new book to be released in June  
Lutsen artist Greg Mueller installed two projects last week. "Prairie"is  a steel and bronze sculpture outside the Lakeville Area Arts Center, (design consultation with Grand Marais artist Jim Sannerud).
And "Fire Station Plaza", a two-year place-making project for the new Burnsville Fire Station #1. This collaboration with ISG Landscape Architects features a 16' high Ladder of Trust, an Interactive Fire
Tetrahedron to understand Fire Science, a History of the Department Timeline Bench (with CNC text cutting assistance from Jon Hedstrom, Grand Marais.) And finally, a Hydrant Mister with LED illuminated fire hose.
The space also includes a Fire Mural by St. Scholastica Professor of Painting, Paul LaJeunesse. 
 Opportunities:
North Shore ArtScene is seeking individuals who would be interested in teaming up to put out NorthShore ArtScene every week.  They would learn about and contribute to the blog. They must be computer- and social media-savvy, have some layout and design skills, be an artist or art lover, and have a good eye for beauty as well as an eclectic taste in music. They must also have a passion for serving artists and the North Shore community. This is just a volunteer position, as it always has been. To apply, email joan.farnam@gmail.com
Online Music
Live Music:
Thursday, May 12:
Gordon Thorne, Date Night at the Winery, North Shore Winery, 6 p.m.
Pete Kavanaugh, Cascade Lodge Restaurant and Pub, 6 p.m.
,
Friday, May 13:
Kevin Buck, Cascade Lodge Restaurant & Pub, 6 p.m.
Jim McGowan, Lutsen Resort Lobby, 6:30 p.m.
Saturday, May 14:
Kevin Buck, Cascade Restaurant & Pub, 6 p.m.
Jim McGowan, Lutsen Resort Lobby, 6:30 p.m.
Photographs
Here's a selection of what we found this week.
 Have a great weekend, everyone!